Contact Us:
Hours of Operation:
Mon-Friday: 4 PM to 10 PM
Saturday: 4 PM to 12 AM
Sunday: 4 PM to 9 PM
Location:
1775 Historic Route 66
Santa Rosa, NM
We are easy to find! Take Exit 275. Turn left and we're on the north side of the street.
Delivery from 4 p.m. to 9 p.m. – Inside City Limits Only
A Little About Santa Rosa:
The beautiful City of Santa Rosa is Scuba Capital of the Great Southwest. It boasts many spectacular natural & handmade sites and landmarks. Most famous of these is the Blue Hole. The Blue Hole is a bell-shaped artesian well. The surface of the Blue Hole is approximately 60 feet in diameter. Its top-most cavern is close to 80 feet deep. It has connecting caverns of over 248 feet. Nearly 2,000 gallons of pure spring water flow from the Blue Hole per minute. Its temperature remains a cool 61°F year round. Due to its depth, natural rock formations, & crystal clear water, it is perfect for scuba diving. Weekly, hundreds of people come to the Blue Hole for scuba instruction & certification. Many other similar lakes and recreational areas exist in and around Santa Rosa.
Park Lake lies west of the Blue Hole and only two blocks from Joseph's Bar & Grill. Park Lake consists of KiddieLand Playground, a baseball field, picnic areas, and restrooms. It has a swimming & fishing pond complete with a pier, a diving board & a two-story waterslide! Fishing is free for kids under 12. All other facilities are always free. Lifeguards are on duty during the hot summer days. On weekends, you can rent canoes and paddleboats for a small fee. It's the perfect spot for summer family recreation.
There is a senior fishing pond and a kids fishing pond located between Blue Hole Softball Field & Park Lake. These ponds are free and get stocked by the NM Game & Fish Department on a regular basis. They provide hours of entertainment for senior citizens & youth!
The Tres Lagunas Municipal Golf course is on the east end of town. It is a challenging nine-hole course set among rock cliffs and scenic lakes.
Santa Rosa Lake
Seven miles north of Santa Rosa is the Santa Rosa Lake and Dam State Park. This recreational area provides beautiful landscapes, hiking trails, picnic areas & playgrounds. There are also day & overnight campgrounds, both with & without electricity. This lake attracts fishermen from throughout New Mexico and west Texas. It has some of the best catfish, trout, and walleye in the area. The Pecos River feeds into the lake, keeping it as full as rainfall will allow.
The Pecos River flows south from the lake through the city of Santa Rosa and on to Puerto de Luna, 9 miles south. When you drive to Puerto de Luna (or PdL, as the locals call it) the Pecos River is on the west and rock cliffs & clay on the east. It is a scenic drive that rambles through pastures and canyons. The small town of Puerto de Luna, was a favorite hangout of Billy the Kid. Many of its small buildings, including the old church, Our Lady of Refuge, stands as they did in the Wild West days.
Santa Rosa's Start
Established in 1907, Santa Rosa derives its name from St. Rose of Lima Catholic Church. The original chapel lies on the road to PdL. Only its crumbling rock walls and old cemetery remain. But, the home of Santa Rosa's founder, Celso Baca, remains intact across the road. It now houses the town's mortuary. The current St. Rose of Lima Church lies north on the same road and has long since been the heart of the city.
Each last weekend of August, the parish celebrates the feast of St. Rose in honor of the town's patron saint. Friends & family come from all over to sample the local cuisine. They get a taste of New Mexico through food & dancing to New Mexican music. It's a fun weekend!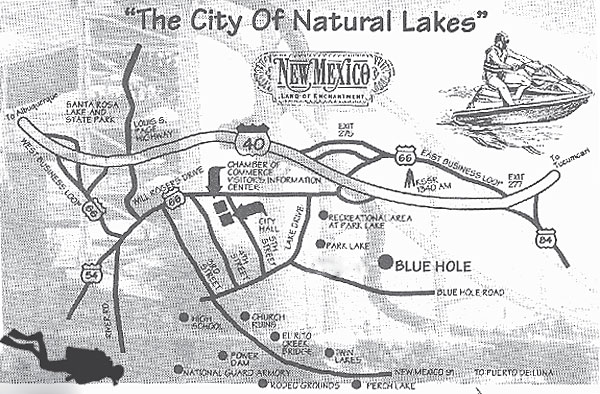 Other local celebrations include the events all summer!
Memorial weekend's 'Santa Rosa Days' kicks off the summer with a parade, carnival, & food stands! Santa Rosa Days includes softball tournaments, water sports, talent contests, & goat roping too!
The 4th of July showcases a city-sponsored fireworks display over Park Lake. It also is the day of the annual Fire-Cracker Softball Tournament.
Route 66 Days is in July as well. It boasts music, dancing, and a car show held in historic downtown Santa Rosa.
Summer wraps up with the Labor Day weekend softball tournament.
This, and more, is Santa Rosa.
But, the true beauty of this community lies not in its sights and celebrations, but in the hearts of its people. We are people who welcome travelers. We are always proud and willing to show you the way to any of Santa Rosa's many landmarks. Come visit us.