The Campos Family Tradition begins with Jose A. Campos, Sr. He was born in 1913 in Puerto de Luna. It is a small farming town south of Santa Rosa. Along with his family & the nation, Jose experienced hardships of the Great Depression. He worked in C. C. camps and did odd jobs to help support the family.
In 1942, he enlisted and served during World War II. Despite his 10th grade education, Jose dreamed of starting his own business. He began by hauling ice and coal to Santa Rosa. Little by little, he saved enough to buy his own trucks. Jose then opened a gas station with his twin brother, Joaquin. They expanded the station into a Kaiser Fraiser auto dealership. They further expanded to the La Loma Motel.
In September 1948, Jose met his future bride, Carmen. She was a self-employed pharmacist. They met at the Fiestas de Santa Fe. The two married in January 1949 and soon began their family of seven children. In 1956, the couple opened La Fiesta Drive-in on Route 66. A few short years later, the expanded into a full-service restaurant. This was later turned into Santa Rosa's only cafeteria-style restaurant. Route 66 provided great business for the Campos Family.
But, as times changed, I-40 replaced Route 66, and the new interstate bypassed Santa Rosa. La Fiesta and Downtown Santa Rosa suffered, as did many other businesses along Route 66.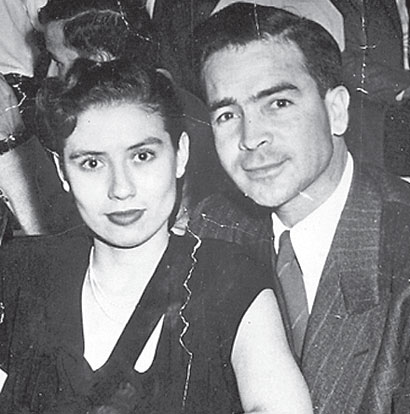 In 1985, Jose and Carmen passed down La Fiesta to their children. It soon became known as Joseph's Bar and Grill. The business expanded to include a gift shop, full-service bar & nightclub. It even featured live entertainment and karaoke.
In recent years, Santa Rosa has enjoyed a comeback, thanks to many return customers from all over. Many of whom were travelers on The Mother Road, Route 66. Renewed nostalgia for the old road has brought many new friends from the U.S. and other countries.
The Campos said goodbye to Jose Sr., or Mr. C. as he was affectionately called by his employees, when he passed in 1990. His legacy continues through his son Joseph and his family. His wife Christina and their 3 children, Analisa, Andrea and Jose III. The Campos family strives to continue the service Jose Sr. started so many years ago.
Who is The Fat Man?
We are often asked "Who Is The World Famous Fat Man?" in our logo. The Fat Man is the portrait of a very satisfied, well-fed gentleman. He has a friendly smile and piercing blue eyes.
Here's what we know…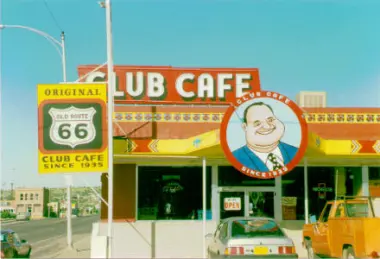 The Famous Route 66 Fat Man was once the logo of the Club Cafe, founded in 1935 by Phillip Craig and Floyd Shaw. No one really knows who the original Fat Man was though. Maybe he was a caricature of the great orator Will Rogers or possibly one of the original owners. We'll probably never know! Through the years though, the Fat Man has been a popular American symbol. His face symbolizes prosperity, confidence and resilience even in the face of World War II, Vietnam, Watergate and the 1970's energy crisis. For generations, the Fat Man invited hungry tourists along Route 66 to stop by Club Cafe for biscuits and gravy, chicken fried steaks and other hearty meals.
The Club Cafe became a popular tourist destination and remained so for many, many years. Unfortunately, in 1991, it served its final meal before closing its doors for the last time.
Years later, Joseph & Christina Campos purchased the abandoned building. They soon found the old building was in great disrepair and they abandoned plans to re-open the Club Cafe. Fearing the demise of the Fat Man, a local icon, the Campos's welcomed him into the family. They brought him home to Joseph's Bar & Grill. His smiling face is now seen on billboards, mugs and t-shirts. His smile welcomes hungry tourists to come by and enjoy a hearty meal in beautiful Santa Rosa.
Joseph & family hope you'll stop in and visit us. Grab a bite to eat and experience Route 66!